CUSA eSport FIFA Challenge
---
---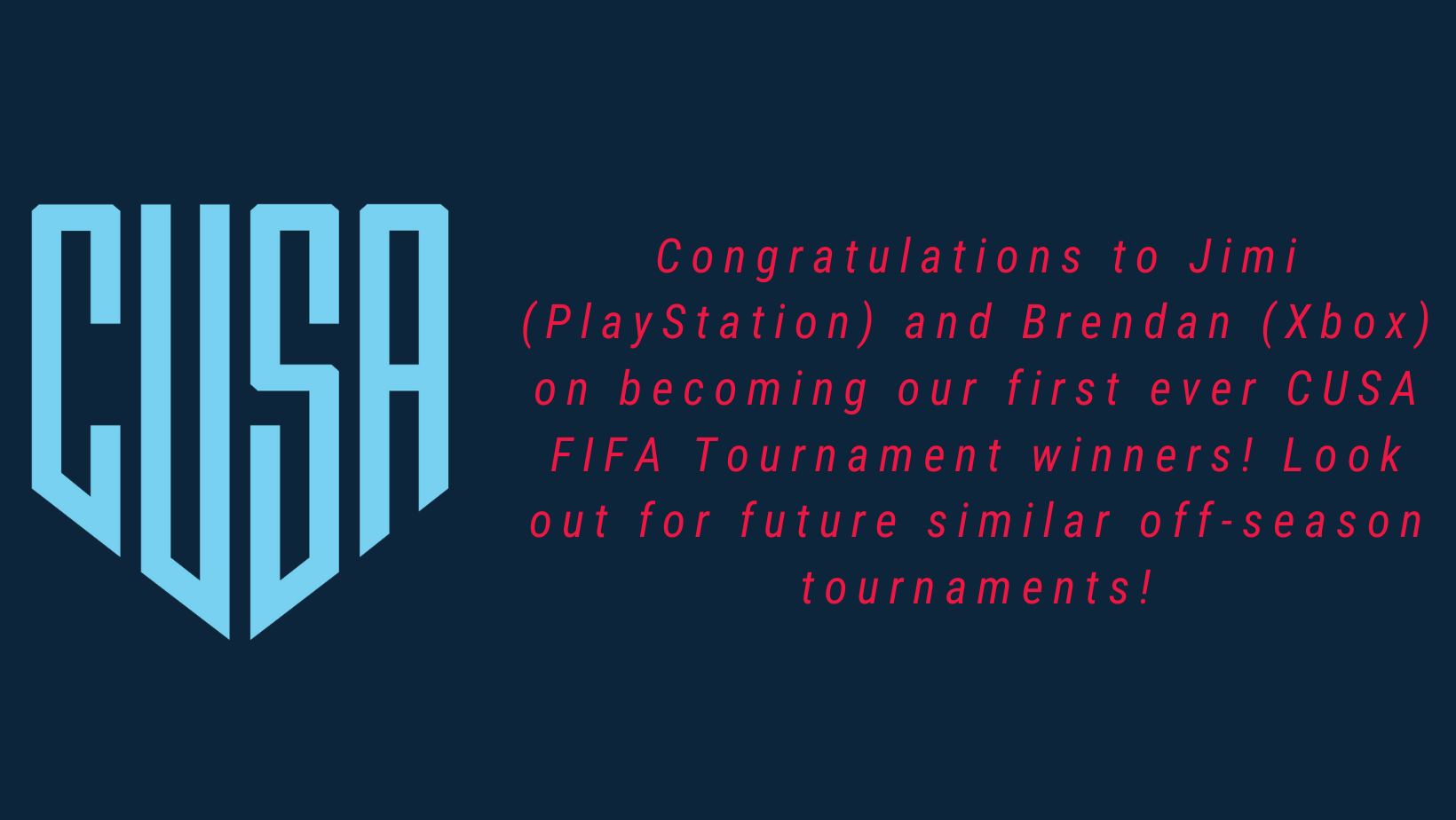 ---

CUSA eSport FIFA Challenge!
As we cannot currently do what we love doing the most - playing together physically out on the field - CUSA invites you to do the next best thing to get your soccer fix within our local soccer community! Register now for our CUSA online Xbox and Playstation FIFA21 Tournaments! Prizes to be won! Online streaming/viewing on Finals Evening!
The What: 2 separate FIFA tournaments, to incorporate both X-Box players and PlayStation. This means there will be a champion for each platform!
The Format: Straight knockout. Number of entrants will determine how many games/rounds, including a play-in round. Players will arrange to play each other online within a set timeframe and will be asked to screenshot the outcome and send it through to our administrators to update the bracket. Once the semi finals have been determined, they and the Finals will be played out over an evening on the online platform Twitch, so that supporters can tune in to watch!
The When: Registration will be open from Monday March 1st to 9AM Monday March 8. The draw will then be made and games will commence Tuesday March 9th. Finals evening will be determined once the number of teams has been finalized and the draw has been made. Players should be available to play during midweek evenings, with a set deadline in place to have played the game and send the result.
The finer gameplay details: FIFA 21 version. Online Friendly mode. Players to swap usernames and add to friends list prior to play. Games should be set to 6-minute game halves. In the event of the scores being level at full time, Extra time and penalties should follow. No 2 legs / replays. Club teams, set to Squad Type: 90 should be selected, to make it a level playing field. No custom / FIFAPRO teams can be used.
The Where: Within the comfort of your own homes. If we have an easing of restrictions before Finals evening then keep an eye out for updates!
The Cost: $20 per entry due at the time of registration (credit card only). 100% of the proceeds will go straight back in to the cash prize pool. Prizes to be determined once number of registrants has been confirmed.
The How: Log in to your Member Login CUSA RAMP account, via the homepage of our website. Then click on "Clinic Registration", then "Register for Clinic". Fill in your personal details and use the access code: CUSA40 when prompted. All applications received between March 1st and 9am on March 8th will be eligible to play. Ages 16+, only one entry per player. Full rules and regulations to be sent to all registered players before tournament starts.
If you have any questions or problems regarding registration, please email admin@cusa.ab.ca. This event is open to all CUSA Members and friends within the Province of Alberta.
To view the tournament flyer from the website to send to friends and family, click here.