Competitive
Following the completion of League Play all teams will enter into a playoff round. Once the final standings of the first 18 games are known the schedule will be updated to place the teams into the Playoff round.
The top 4 teams (DDSP, Super Sonics, MMFB and Ligers) competing for the league championship will NOT be permitted to use any guest players throughout their playoff games.
Teams outside the top 4 (KAM United, Beercelona, Blue Steele, The Call Me Maybes and Druzyna) are permitted to use eligible guest players
Reminder that rosters are locked after your last league game and no new players can be added after that point.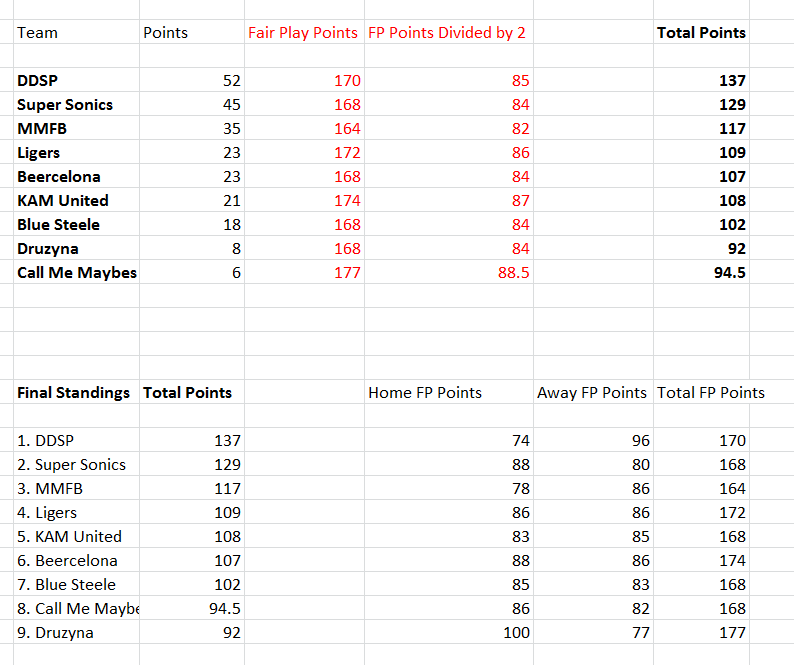 ROUND 1
*** The Call Me Maybes have a bye***
| | | | | | | |
| --- | --- | --- | --- | --- | --- | --- |
| Date | Field | Time | Home Team | Away Team | | Game # |
| Mon Mar 9 | CSC - North | 8:15pm | KAM United | Beercelona | Competitive Playoffs | 1 |
| Mon Mar 9 | CSC - North | 9:15pm | Blue Steele | Druzyna | Competitive Playoffs | 2 |
| Tues Mar 10 | CSC - South | 8:15pm | DDSP | Ligers | Competitive Playoffs | 3 |
| Tues Mar 10 | CSC - South | 9:15pm | Super Sonics | MMFB | Competitive Playoffs | 4 |
ROUND 2
***Beercelona has a bye***
| | | | | | | |
| --- | --- | --- | --- | --- | --- | --- |
| Date | Field | Time | Home Team | Away Team | | Game # |
| Sun Mar 15 | CSC - Alpha | 6:00pm | KAM United | Blue Steele | Competitive Playoffs | 5 |
| Sun Mar 15 | CSC - Alpha | 7:00pm | The Call Me Maybes | Druzyna | Competitive Playoffs | 6 |
| Sun Mar 15 | CSC - Alpha | 8:00pm | Winner of Game #3 | Winner of Game #4 | Competitive Playoffs | 7 |
| Sun Mar 15 | CSC - Alpha | 9:00pm | Loser of Game #3 | Loser of Game #4 | Competitive Playoffs | 8 |
ROUND 3
| | | | | | | |
| --- | --- | --- | --- | --- | --- | --- |
| Date | Field | Time | Home Team | Away Team | | Game # |
| Wed Mar 18 | CSC - South | 8:15pm | Beercelona | The Call Me Maybes | Competitive Playoffs | 9 |